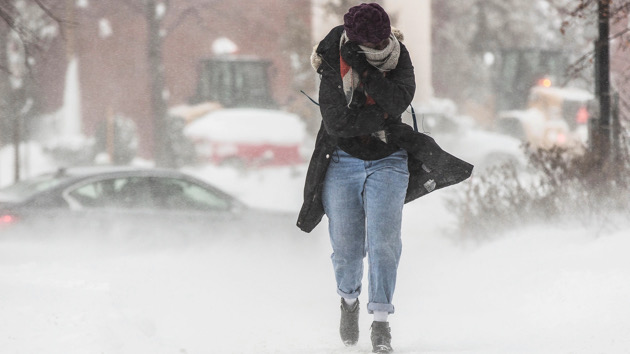 (NEW YORK) — The calendar may say it's autumn, but winter weather has already made an unseasonable appearance for a large swath of the U.S., bringing with it freezing temperatures and measurable snowfall to several regions.
A strong cold front is moving across the country, causing temperatures to plummet from record highs in the 80s to below freezing, forecasts show. Some regions will experience temperatures in the 30s, 20s and even single digits.
Heavy snow has already fallen from Colorado to South Dakota, with some areas getting six inches of accumulation and others up to 19 inches, according to the National Weather Service.
Denver International Airport saw about 7.5 inches of snow over the weekend, while some areas south of the Denver metro area saw between 10 and 11 inches Sunday.
While the snowstorm is over, the cold is moving eastward, from Denver all the way to New York City.
On Monday morning, 26 states from California to Pennsylvania were under freeze and frost alerts, with temperatures reaching below zero in some parts of the Rocky Mountains. Record-low temperatures were expected in the Great Plains on Monday morning as well.
The frigid air mass will move into the Midwest and the South by Tuesday morning, bringing the first freeze of the season for major cities such as Chicago, Indianapolis and Nashville.
By Wednesday, the freeze will move even further east and south, bringing chilly temperatures to regions near Dallas, Birmingham and Atlanta.
The cold blast will reach the Interstate 95 corridor by Thursday, with temperatures in the 30s forecast for major Northeast cities like Boston, New York, Philadelphia and Washington, D.C., and freezing temperatures expected for the cities' suburbs.
The cold could also bring the first lake-effect snow of the season from Wisconsin to western New York state.
Winter storm warnings have been issued for Michigan, where some areas could see up to 10 inches of snow.
A quick-moving system will also bring a dusting of snow from North Dakota to Minnesota and southern Wisconsin. Cities like Minneapolis and Milwaukee could see their first snowfalls of the season as well, with snow also possible in Chicago.
Copyright © 2023, ABC Audio. All rights reserved.