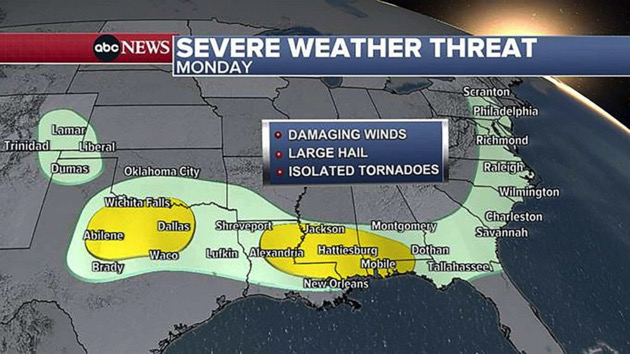 (NEW YORK) — More than 40 million Americans are on alert for possible severe storms that may bring isolated tornadoes.
Americans from Denver and Dallas to Columbus may experience damaging winds up to 70 mph and large hail more than 2 inches in diameter, according to meteorologists.
That severe weather chance is all due to a strengthening low-pressure system that moved across the Heartland on Sunday morning. As that storm pushes east, it will bring rain chances for much of the East Coast throughout Monday, meteorologists said.
That storm would also end any remaining wildfire smoke in the air across the eastern U.S., meteorologists said. There still may be some hazy skies Monday, but once that storm moves by, the smoke will also head out.
On Monday, severe storms are possible from central Texas to the Florida Panhandle.
Moderate to large hail and damaging winds are forecast for some storms up the East Coast, meteorologists said.
Parts of central and southern Texas are forecast to feel the heat this upcoming week, with temperatures hitting record highs in the upper 90s and lower 100s. The feels-like temperatures will be between 100 to 115 degrees throughout the week, according to meteorologists.
Meteorologists warned that the extreme heat could adversely impact people's health.
The rising heat brings an increased risk of wildfires across the southwest, according to meteorologists.
Headed into the work week, a red flag warning is in effect for much of southern New Mexico and the combination of dry heat and gusty winds will keep the critical fire danger in the area.
Copyright © 2023, ABC Audio. All rights reserved.